Games – Especial Issue – Simogo (SW)
Jueves, Septiembre 22nd, 2011
Tweet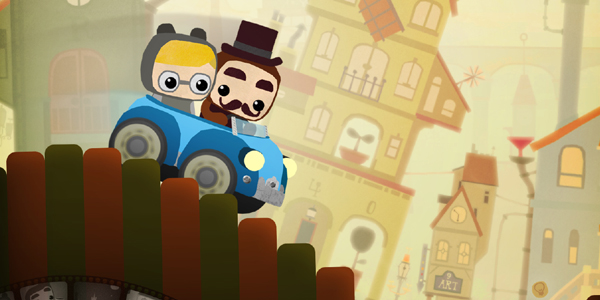 With a carefully designed and well-crafted gameplay Simon Flesser y Magnus "Gordon" Gardebäck of the swedish studio Simogo, have been placed with just two games in the AppStore as one of the hallmarks of reference in this new industry that is growing by leaps and bounds each day. The secret? a lot of love for what they do, dedication and motivation. The result? funny and addicting games like "Bumpy Road" and "Spin Kosmo"…

Interview with Simon Flesser (Simogo)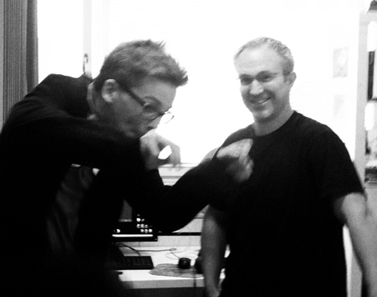 Simon Flesser and Magnus Gardebäck | Founders of Simogo
Could you tell us a brief biography of Simogo?.
Simogo is me, Simon Flesser, and Magnus "Gordon" Gardebäck. Gordon writes the code, I do the art and sound. We design the games together. We started last year, in August, and released our first game Kosmo Spin that year. In May 2011 we released Bumpy Road.
Before starting Simogo we worked with console games at another company in Malmö,Southend. Mostly remakes such as R-Type and Lode Runner for Xbox live arcade, but also one original game called ilomilo which I art directed and Gordon tech directed.
What do you think about the current scenario of video-games on mobile
devices?
It's a good one, and there are lots of interesting and unique games coming out that we wouldn't have seen a few years back when it wasn't possible to sell your games as easy as in this digital age.
But there are a few trends that I really really dislike. I'm totally ok with developers charging for actual content, like new levels, clothes or something that actually has a value, but I don't like the trend of selling numeric values for real money. For example, in game, where you can pay to skip levels or a point multiplier. It's even worse when it's disguised like it is in some games Especially in games that are targeted at young children.
Is it a good scenario for small businesses compared with large industries? (assuming that best-selling games are mostly produced by small businesses)
Well, we can make a living out of doing games independently, so I would say that it's a good situation today, but it's never easy. There's lots of competition and you've got to have something unique.
Mobile or Tablet-PCs?
What we prefer? I personally like smaller devices, even though the iPad is very cool for games, especially for more players.
It's quite obvious that mobile games have changed the way we make games, more simple and faster oriented. What do you think about the future of video-gaming?
It's so incredibly hard to say, and if you are two specific you'll end up looking stupid when looking back. Personally I'm hoping for more cool user interfaces, like the touchscreen and motion control revolution of these past years. I'm hoping a lot for haptic feedback on touchscreens where you can feel different heights and different materials, that would be pretty cool, especially combined with 3d graphics. Even haptic feedback on buttons and sticks would be cool, like buttons that press themselves back or are harder to press in the game. Like, in Zelda when you're pushing a block to the right, the analog stick makes a bit of a resistence and is harder to press to the right.
Do you see a possible jump from the mobile to the console and/or vice
versa? Are you planning it for the future?
Yeah sure, but for now we're pretty satisfied with doing iOS because we can keep the projects small, which we prefer, and we can easily self-publish our stuff.
We actually talked with publishers about doing Bumpy Road for Playstation 3, but that eventually never happened.
I play a lot on my consoles and handhelds it would be fun to do something, but who knows what happens in the future.
What are your distribution channels once the games are up and running?
Since we're only doing iOS at the moment it's App Store only.
What projects do you have under development right now?
We'll keep that a secret for just a little while more. We're constantly hinting about it on our twitter (@simogogames) and our blog, so check us out there if you want all the details. If I can give a small hint about, I would say that this is not an endless game like our previous two games, and it's a lot more puzzle oriented than the previous ones two.
Also, we are doing a Mac version of Bumpy Road, but since we're not two it's something we're doing on the side of this third project so it takes a little while.
Reviews

Bumpy Road
Read review (spanish)
Download game

Kosmo Spin
Read review (spanish)
Download game
Writers: MAD, Sandra.
Images: Simogo.
Publicidad
MP3 de la semana