Gran banda sonora para FIFA 12
Domingo, Septiembre 25th, 2011
Tweet
Kasabian, The Strokes y The Vaccines se incluirán en la banda sonora del videojuego FIFA 12.
39 artistas de 15 países aparecerán en el juego de EA Sports. La banda sonora contará también con formaciones como Crystal Castles, CSS, Chase and Status, Foster The People, Glasvegas, El Guincho, Architecture In Helsinki, y The Hives, entre otros.
FIFA 12 saldrá al mercado el 27 de septiembre en USA y el 30 en el resto del mundo.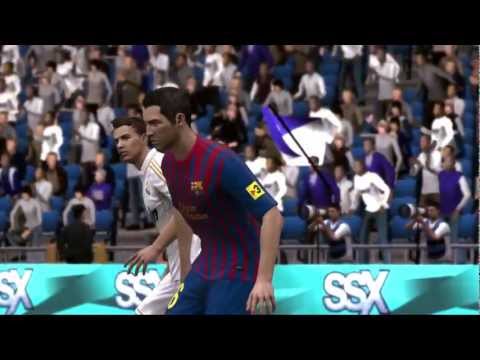 El tracklist de FIFA 12 es el siguiente:
Alex Metric & Steve Angello – 'Open Your Eyes'
All Mankind – 'Break The Spell'
Architecture In Helsinki – 'Escapee'
Bloco Bleque/Gabriel O Pensador – 'So Tem Jogador'
Chase & Status – 'No Problem'
Crystal Castles feat. Robert Smith – 'Not In Love'
CSS – 'Hits Me Like A Rock'
Cut Copy – 'Where I'm Going'
Digitalism – 'Circles'
DJ Raff – 'Latino & Proud'
El Guincho – 'Bombay (Fresh Touch Dub Mix)'
Empresarios – 'Sabor Tropical'
Foster The People – 'Call It What You Want'
Givers – 'Up Up Up'
Glasvegas – 'The World Is Yours'
Graffiti6 – 'Stare Into The Sun'
Grouplove – 'Colours (Captain Cutz Remix)'
Japanese Popstars – 'Let Go'
Kasabian – 'Switchblade Smiles'
La Vida Boheme – 'El Buen Salvaje'
Little Dragon – 'NightLight'
Macaco – 'Una Sola Voz'
Marteria/Yasha – 'Verstrahlt'
Monarchy – 'The Phoenix Alive (Kris Menace Remix)'
Pint Shot Riot – 'Twisted Soul'
Portugal. The Man – 'Got It All (This Can't Be Living Now)'
Rock Mafia – 'The Big Bang'
Spank Rock – 'Energy'
The Chain Gang Of 1974 – 'Hold On'
The Hives – 'Thousand Answers'
The Medics – 'City'
The Naked & Famous – 'Punching In A Dream'
The Strokes – 'Machu Picchu'
The Ting Tings – 'Hands'
The Vaccines – 'Wreckin' Bar (Ra Ra Ra)'
Thievery Corporation – 'Stargazer'
Tittsworth & Alvin Risk/Maluca – 'La Campana'
TV On The Radio – 'Will Do'
Tying Tiffany – 'Drownin'
Publicidad