Interview with The Missing Souls
Tweet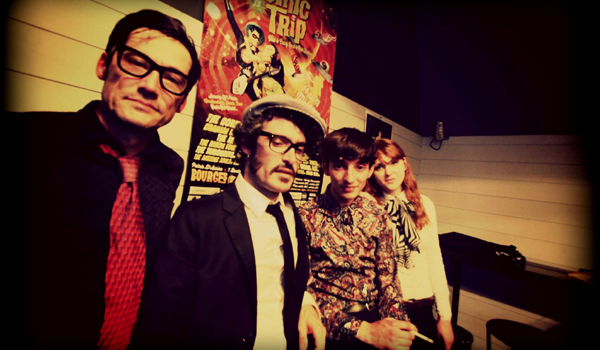 - Where do The Missing Souls come from? Is this a project that you had considered a long time ago?
We formerly come from Lyon, France. Lester, the Missing Souls drummer, and I (Ian, guitar, vocals), were playing together in a band called The Cavemen V during 5 years, a primitive 60′s punk band from Lyon.
We never thought of doing another project, it all started when we met a new english/french musician in town, Elsa. While being drunk in an italian restaurant, we decided the three of us to play together and form a 60′s soul-garage band, by the taste of music and passion we were sharing together!.
But there was still another musician missing, so we kidnapped Ricky, a friend of ours who was playing organ with X-Ray Vision, a great surf band from Lyon!.
Now, Elsa lives in the U.K., Me in Barcelona & Ricky and Lester in Lyon. It's what you call an international band, but 3 years we're still together!.
- How do you create the songs, and how do you choose them? How do you agree on what is included and what's not?
As far as it seems, with the distance between us four, it's a bit complicated to write songs together (we've been trying in the past, but it's not our aim, the FUN comes first!).
The whole bunch (between 30 and 55 years old) have the luck to share the same tastes, so when we have a rare single to make discover to each other or a well known favorite, we pick up the songs that seem easy to us, depending especially on the production and the arrangements (we don't have any horn section).
So, it's all about the feeling in the end, we try songs, we throw some of them away or we start to play them live; if the crowd is giving us a good vibe we just keep them in our set!.
- Many of the songs are covers. Do you have your own unreleased songs?
Yes, all of our songs, live or on records, are covers. We want to remain that way and we like it!.
Our goal behind this is to spread our love for 1960s music and hopefully make people want to listen to music from this era and forget about the worthless ear-destroying rubbish out there.
If you write originals and they sound soulless, We don't think that makes you better than us.
Utmost respect to bands like The Baron Four or The Masonics, who both write amazing songs.
- What music or singers do you like to listen to when you're on tour or in an ordinary day? Any notable name or referent?
On tour, we listen to lots of different things, depending on the mood, the time of the day, the hangover…
I would say mostly (and to quote a few names), 60′s Garage (The Standells), Soul (Sam & Dave), Rhythm 'N Blues (Mighty Hannibal), Blues (Howlin' Wolf), Punk (The Hollywood Brats), Rock 'N Roll (Dr. Feelgood), Cumbia (Roots Of Chicha Comps).. etc…
At home, depend on each one, I (Ian) like to listen to cool stuff, sometimes jazz (Mose Allison, Thelonious Monk…), sometimes 60′s pop (The Kinks/The Easybeats), sometimes listening to the plants talking… but for partying, punk-rock and garage stuff!.
- Is there a garage scene in France or is it easier to find it in Germany or UK? With what other bands do you have things in common?. 'cause you just finished a tour with The Baron Four…
There is, but it's just so small! Just to quote a few great bands, les Grys-Grys, Jon & The Vons, Les Playboys… There are good surf bands as well (to me it's among the same scene), Les Agamemnonz, Les Arondes, X-Ray Vision…
For sure, in England it's more prolific! But I guess the same, maybe one or two garage bands in each big town.
To talk about common things with bands, you're right with the Baron Four. They're an incredible band, the four of them, and I (Ian) especially idolize Mole's wild drumming (I'm a drummer formerly!).
We have done many shows and tours together (including our last tour in Germany). To me, they're like family, good rock 'n roll-soul brothers!.
Despite the fact that I'm (Zaza) getting married to Mike, we are all close because we share the same passion and vision of music, and we know how to have a laugh!
We are truly passionate about 1960s music, we don't just pretend to be just by wearing winklepicker boots and bone necklaces.
- You've played in some festivals, for example at the Gambeat Weekend in Barcelona, or the Beatwave festival in Hastings, and next month you'll perform at Garageville in Hamburg. What is the difference between playing in small clubs, or with some bands in festivals? Do you offer something different?
Sure! And we always enjoy playing in Barcelona and generally Spain, the crowd is cool & crazy!.
Events like the Beatwave or the Hipsville in England are such great festivals!
Cannot wait to get to play at the Garageville Festival in Hamburg this month, we've been experiencing it a few years ago with The Cavemen V and it was WAY-OUT! And there's good fish!.
The difference between clubs and festivals? I think we are always welcomed and treated the same way. Just that in festivals, you have more visibility, much fun and lots of people.
We never play a different way considering the one or the other, a show is a show, you've got to give 101% of your energy in it, even if you have 10 people in the crowd. Otherwise, quit playing rock 'n roll!.
- Would you prefer to publish singles than to collect songs and wait a certain time to edit an LP?
We already have an LP out on Dangerhouse Skylab (the label of Dangerhouse Record Shop's boss in Lyon).
We all prefer making 45′s rather than spending too much time on the recording and mixing of an album.
We're a band of emergency who like to put out singles every 6 months.
We really enjoyed the experience of the analog recording at Mole's studio in Folkestone/UK, putting out our previous single "Sweet Sweet Sadie" on his label, State Records, and taking two other songs from the same session for the new single "The End" out on Dangerhouse Skylab.
Mole is our MAN!.
- What are your next projects or gigs?
This month, we play in Amsterdam at the Pacific Parc, and the next day at the Garageville in Hamburg.
You can have a look on our website to stay tuned for the dates, previous shows, and many other things.
Then we're gonna play in the end of September in England.
Besides, I'm (Ian) on a solo project, more 60′s pop, but I'm on the creation of the songs for the first album at the moment.
And Ricky has another band called La Chica Yéyé! French-Spanish Yéyé with a touch of fuzz!.
themissingsouls.wixsite.com
www.facebook.com/themissingsouls