Interview with More Kicks
Lunes, Noviembre 12th, 2018
Tweet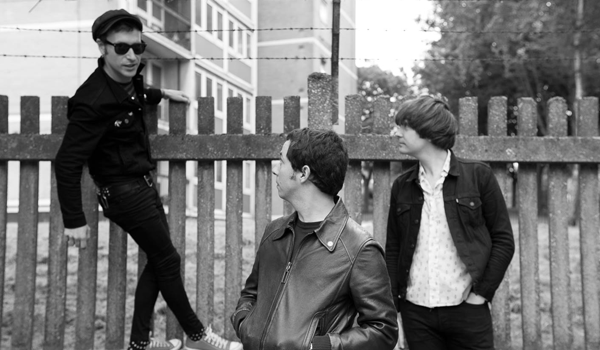 Interview with More Kicks (Sulli, vocals & guitar)
- How would you describe your music?, as you come from different bands in different styles. What have been your influences?
It's pop music basically – but slightly too loud, slightly too fast. People say we sound a bit like Supergrass, the Nerves, the Kinks, Buzzcocks. That seems good to me. Secretly, we're all huge fans of the Backstreet Boys but nobody has noticed all of our songs are stolen from them. Don't tell anyone.
- How was the band formed?. What were the early days of More Kicks?
Like all the best romances, I met Kris on the internet. We had a million friends in common but somehow we didn't know each other. But he knew we had similar tastes and wrote to me on Facebook asking if I wanted to jam. I'm too shit a musician to be able to jam properly (plus most bands who jam are terrible) but I had some songs. The eternal problem is finding bass players. Then, like an angel from heaven, Marco arrived. Again, friends of friends. And we were ready. Our first gig was with Manitoba NYC – it's The Dictators but legally obliged to have a different name. The first thing Handsome Dick did in the gig was fall on his arse. It was a sign.
- Why More Kicks?. Where the name of the band comes from?
I've been trying to call something 'more kicks' for years. Literally like 8 years or something. The best German band ever is The Shocks and they have a song called More Kicks. I used to play music with Smail (the singer of The Shocks) and that song was stuck in my head for so long. I also think the idea of 'kicks' is great – chasing a thrill, or excitement or something like that. Teenage Kicks, Modern Kicks, get your kicks on route 66… all these things. I like the idea of chasing that high. I guess that's what we're doing.
- How has been the recording of this first single?. And working with the people of Snap! Records?. How and when did you meet them?
We recorded six songs in one afternoon in a studio in east London. For some reason it was really easy. We knew Snap Records was a good label with good bands so we asked if they would like to release our first single 'It's A Drag'. We all love coming to Spain and playing in Spain so we liked the idea of starting with a Spanish label. The reaction has been really cool – people in Spain love rock and roll and rock and roll loves them.
- Are you in the process of recording new songs for a first LP?. If the answer is yes, can you give us some feedback about this?
We're planning to record our LP early in 2019. We have plenty of songs, 90% of them are good, the 10% we will drop or try to sell them to a shitter band.
- What can we find in your gigs? What's the experience?, for the people that didn't see play the band yet…
I wish I knew the answer to that. Usually I'm concentrating so hard on singing and sweating that I don't know what's going on. I do know that Kris is the happiest drummer you will ever see and Marco has the best stage moves. But the songs are short, sharp, melodic, energetic – you can dance to them, you can sing to them, you can drink to them. I remember really early in the band we were talking about how to describe it. We thought 'pop explosion' was a good description and I still think that works.
- You're been playing in UK, Germany and now Spain. ¿What are the next countries that you think you'll visit soon?
We have lots of plans, of course. We want to play in France, in Scandinavia, in the US. Anywhere that wants to us to play, we would be happy to do it. Marco is from Brazil and Kris is from Poland so we want to play there too. I played in Japan with my old band years ago and that was amazing. I hope More Kicks can go there soon. But honestly, anywhere. We live in London so Europe is pretty easy. Get in touch! In the words of the great poet Sean Wood from the Spits: "Let us play your party."
- What are your next projects or gigs?
We have some gigs in London straight after this tour – one for Shindig Magazine and one with the Briefs. Then after that… we're organising that now! Our second single 'I'm on the Brink' will be out at the beginning of 2019 so we will plan some gigs around that. Then record the album, see where that takes us, try not to lose our jobs and live on the streets.
Things have moved quite quickly with this band. We've been a band for only one year and it feels like I've been playing with Kris and Marco for my whole life. I know far too much about their bathroom routines. I'm looking forward to learning more about that in different cities, different countries, different continents.
www.facebook.com/morekicksmorekicks
morekicks.bandcamp.com/track/its-a-drag