Trolley Bus | Japón
En 1998, Yoshi, de la banda japonesa "Aikagi" crea Trolley Bus.
Inicialmente, Yoshi, lleva las riendas de TB como una pequeña distribuidora, vendiendo una gran selección de discos indie-pop de todo el mundo y distribuyendo internacionalmente sellos japoneses. Mientras dirigía su pequeña distribuidora, se dio cuenta que había adquirido la suficiente experiencia y conocimiento del sector como para empezar una nueva sección en TB, el sello. Tener su propia banda "Akiagi" y un gran número de amigos en el extranjero hizo que no le costara nada empezar a editar discos.En el 2000, Trolley Bus, edita el recopilatorio "Trolley Music Tour" que le ayudó a definirse en el mercado y con el cual, Yoshi, recibió muchos halagos de sus fans de todo el mundo.

Ese mismo año, Yoshi, decidió dejar definitivamente la distribución y dedicarle todo su tiempo al sello. Ya en el 2001, un nuevo siglo, TB abre sus 2ªs puertas, y tú debes de ser uno de los testigos de este sello japonés... Trolley Bus.
Yoshi.
.............................................................................................

Trolley Bus | Japan (english version)

In 1998, Yoshi from Japanese band called Aikagi opened the door called Trolley Bus. Originally, Yoshi run Trolley Bus as a small mailorder that sells wide selection of records from world indie-pop labels, and it helped him to know and met with many bands and many labels around the world, also his mailorder was only mailorder that sell small Japanese indie pop labels' stuffs to outside of Japan. During running his own mailorder, he also found the system of running labels, and it was enough knowledge to start label section of Trolley Bus, also he has own band called Aikagi, and has many friend in the world, so it was not hard for him to find bands that he want to release. In 2000, Trolley Bus released compilation CD called "Trolley Bus Music Tour", and people finally found what Trolley Bus want to do, and Yoshi got many praises from indie pop fans in the world.

Also in 2000, Trolley Bus closed mailorder section, because Yoshi decided to more into "label" things. And in 2001, a new century, Trolley Bus opened 2nd doors, and you must be one of the witnesses of this Japanese label...Trolley Bus.

Yoshi.


 Yoshi | Foto by Yoshi

  



"Trolley Bus Music Tour" | 2000

Este fantástico recopilatorio de Trolley Bus "Trolley Bus Music Tour" incluye 10 bandas japonesas y 10 de USA, U.K., Suecia, francia y Australia. Es importante remarcar las estrellas indie-pop japonesas que aparecen en este cd como ... Chain Letter (tienen muchos fans en Japón), Luminous Orange (banda favorita de Cornelius) y Photo Jenny (de Minty fresh, Japón).

Release: 27-3-2000


Song List:

1.Rocket Mountain (Spoc)  
2.A Sound Letter From Japan (Chain Letter)  
3.Sunshine Girl (Aquadays)  
4.Twinkle Twinkle Twinkle (Nice Fellow)  
5.A Northern Light (Empress)  
6.Why Should I Look At The Sun? (Eric Metronome)  
7.Silly Talk (Spoc)  
8.Wish You Were Somewhere Else (Aerospace)  
9.I Am A Honeybee(boom boom boom) (800 cherries)  
10.Winchester Monday (Photo Jenny)  
11.The Same Things (Tiara)  
12.Papillon (CALIFORNIA?ROMA)  
13.Don't Be A Slave,Brother (The Mondo Crescsndo)  
14.Super Machine (Paper Kurala)  
15.1,2 I Lost You (Watoo Watoo)  
16.Fresh Berry Soup (LUMINOUS ORANGE)  
17.The Longing Prolonge (Steward)  
18.Snow (Biwa)  
19.Complex (remix) (Huon)  
20.Different Endings (Mike Landucci vs. Aikagi)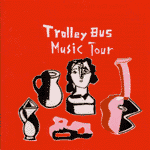 Todbot | "Out of the five lo-fi shadow" | 2000

"En mi más alegre imaginación, veo mis canciones hacer sonreír y cantar a la gente." Así es como describe Todbot su propia música. Un joven californiano de las cercanías de Los Angeles, amante del Skateboarding, Lemonheads, Rentals y el dibujo a lápiz. Grabado en un 8 pistas Tascam 388 y tocado enteramente por él, "Out of the five lo-fi Shadow" cuenta con 5 temas ecantadores que guardo en mi colección, junto a Ben's Symphonic Orchestra, Dr. Kosmos, y los magníficos Fonda 500.

Release: 26-7-2000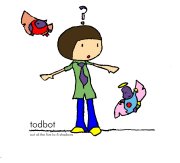 "Lately happy"
"Live like this"
"Thought from Mad kingdoms"



Stungun | "Elbows & Knees" | 2001

Stungun es un dúo de Los Angeles formado por un chico y una chica que anteriormente editaron un Ep en Twee Kitten (USA).
Ahora, para Trolley Bus, graban su álbum de debut. 13 canciones de atractivo pop. Algunas nos traen recuerdos de los inicios de pApAs fritAs, otras tan geniales a lo Galaxie 500. También se respira un ambiente años 60 con aires Beach Boys e influencias del pop británico. Definiría este álbum como todo un lujo de originalidad.

Release: 27-2-2001





"Sad Chad"
"Cigarette charm"
"On and on"
"Waiting for my baby"
"Un oh"